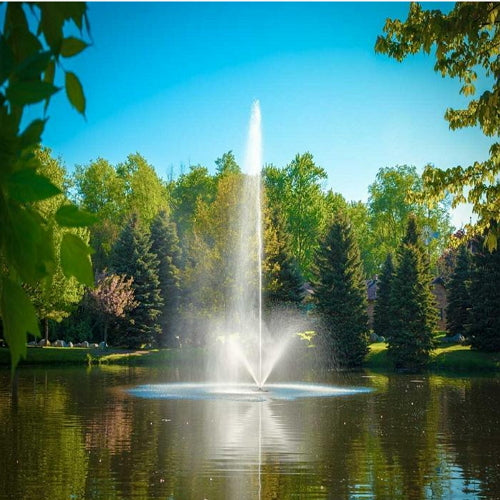 Best Pond Fountain Buyer's Guide
Pond Fountain Buyer's Guide
Pond fountains are a beautiful addition to ponds of all sizes. They are also a great way to keep your pond healthy and clean by making sure that the surface of your pond is aerated properly.
Aeration helps to mix oxygen into the water of your pond, which allows fish to breathe and process their food. It also helps to build up good bacteria within the water to deal with the nitrogen and phosphates that build up from fish and plant waste.
Having a moving surface also helps to keep bug infestations out of your pond, making it easier and more fun to spend time in.
Is a Fountain Right For My Pond?
- Is your pond less than 6 feet deep?
- Does your pond have a simple circular shape?
If you answered 'Yes' to both of these questions, then yes! A pond fountain is right for you! 
If you answered 'no' to either question, you can still have a beautiful fountain in your pond, but you may need to have more than one fountain or an additional aeration system to make sure that your entire pond gets aerated properly. Keep reading to figure out what is right for you and your pond.
Now that you have determined that a fountain is the right choice for your pond, here are some things to consider while you shop!
Different Types of Pond Fountains
Kasco Pond Fountains
Kasco Pond Fountains are some of the most popular fountains in the United States. Their warranties last up to three years. They are easy to put together and come with multiple nozzles in the same kit, allowing you to decide which spray pattern is best for your pond.
These units also typically come with, mooring ropes, lockable control panels, and an optional lighting kit to make your pond even more beautiful. Their customer service is known for being great if there is ever an issue with their products.
Airmax Pond Fountains
The Airmax 1/2 HP EcoSeries fountain is a great deal for the price and the quality is excellent. This fountain is efficient, quiet, effective and beautiful when in operation. Airmax only offers 1 fountain at this time and it is backed by a 3-year manufacturer warranty.
Scott Aerator Pond Fountains
Scott Aerator Pond Fountains are low-power consumers, easy to install and are made in America. Every fountain from this company comes with an unconditional five-year motor warranty and is designed to be as environmentally friendly as possible.
EasyPro Pond Fountains
EasyPro Pond Fountains arrive completely assembled and include 2 different nozzles. These fountains are priced very reasonably and the horsepower range is from ½ - 1 horsepower.
The Floats are made from high-density foam and protected by a decorative cover, and all fountains come with a manufacturers limited 2-year warranty.
Pond Fountain Prices
Pond fountains at YardFocus.com cost between less than $1,200 all the way up to over $8,000. Of course, this is dependent on the amount of power that you need and the other features that you want with your pond fountain.
How to Choose The Right Pond Fountain
What Spray Pattern Do You Want?
While you might be tempted to go with as fancy a fountain as possible, the most effective spray pattern for aeration is the classic V-shaped pattern. The more decorative you get with your spray pattern, the more effort is being put into the decorative aspect than actually aerating your pond.
How Much Horsepower Do You Need?
If your pond fountain is your main source of aeration, you should make sure that your motor has 1.5 hp for every acre of water. If you are using it for decorative purposes, you can get away with one horsepower per acre of water. If your fountain has a more decorative spray pattern, you should make sure that your motor has a little bit more power than the 1.5 hp recommended.
Do you need a Pond Aerator?
If your pond is deeper than 6 feet, a fountain is not likely to be able to aerate all layers of the water column within it. If your pond has an unusual shape that includes inlets and coves, a fountain will not be able to reach all of the areas across your pond as easily. This can lead to significantly more weed and algae growing in the areas that do not get reached by the oxygen from your aeration process. If this is the case for your pond, you will need a Pond Aerator alongside your fountain.
If your pond is very deep, you will want something like a windmill or a diffused aerator to make sure that the water at the bottom of your pond gets aerated as well as the top layers. Diffused pond aerators do not disturb the service, but push the air from the bottom of the pond.
If your pond is oddly shaped, you may want to add more than one fountain, a waterfall, or a windmill in the areas that are not being aerated properly by your pond fountain.
How Do I Prepare My Pond Fountain for Winter?
Fountains are not designed to run during the winter, especially if you live somewhere where it gets icy. If you live somewhere where your pond regularly freezes over, you should make sure that you have auxiliary aeration that operates below the surface to keep your fish healthy and your pond in the best shape it can be.
If you do keep your fountain running year-round, make sure that your pond is warm enough not to damage the interior workings and pipes.
Summary
By this time you should have a good idea if a Pond Fountain is right for you. If so, you'll want to purchase from an Authorized Dealer to make sure that your warranty is valid. YardFocus.com is authorized to sell every brand that we carry. We also offer Free Shipping on every item and a 6 Month Low Price Guarantee so you can be sure you're getting the best deal possible. 
We hope you've enjoyed this Pond Fountain Buyer's Guide and we look forward to serving you!