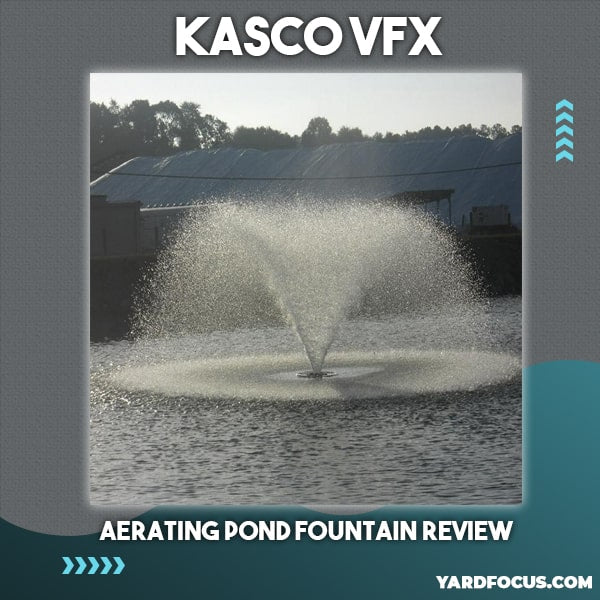 Kasco VFX Aerating Pond Fountain Review
Today we're reviewing the popular Kasco VFX aerating pond fountain. A pond aerator fountain is a relaxing and tranquil item to invest in for your property. Not only are you adding to the aesthetics of your yard, but you can also use this product to improve the way your pond looks and functions.
The Kasco VFX fountain comes in different horsepower and voltage options and there are several models to choose from. What you choose will depend on the size of your pond and your needs.
Built with different pond sizes in mind, the Kasco VFX fountain is designed to be ultra-efficient, regardless of which horsepower variety you choose. Included with the aerating fountain you'll receive a control panel and power cord (you'll have multiple power cord lengths to choose from).
You can operate your fountain in water as shallow as 19 inches, depending upon the model you choose (please see the specifications). The unique design helps prevent clogs and damage from algae and muck. The motor is constructed with durability in mind; corrosion resistance is included.
The Benefits of Kasco VFX Fountains
The design of this product provides you with many different features that make a VFX fountain a worthwhile investment. Let's take a look at some of the benefits you may enjoy.
Improved Water Quality
Standing water that isn't being aerated in any way will experience a lack of oxygen. The sediment on the bottom of your pond can then release different gases that will result in poor water quality.
When you have a fountain running, water is being circulated and the water falling back down and hitting the surface will provide increased aeration.
Addressing Algae Growth
When you add oxygen to your pond water, you are removing the nutrients that are needed in order for algae to grow. You're also circulating algae spores into the lower depths of the water where it won't grow as quickly.
Improving Fish Life with the Kasco VFX Aerating Pond Fountain
Aerating your pond with this fountain can promote a healthy ecosystem for any fish that are living there. You're bringing more oxygen to the surface of the water, and you may end up seeing more fish that way. There are few better ways to relax and enjoy yourself than sitting by your pond and being able to gaze at all of the different fish and wildlife that are enjoying the area.
Getting Rid of Bugs
This aerating fountain will throw water from your pond up into the air, causing it to fall back down. Mosquitoes are a common insect that many people have trouble dealing with when they have a pond. Moving that water around more can help prevent mosquitoes from being able to lay their eggs on the surface of the water.
Kasco VFX Fountain Pros and Cons
Pros:
Control panel and power cord included
Beautiful calming spray pattern included
Comes with a lengthy manufacturer warranty.
Two 50-foot braided nylon mooring ropes are included.
Requires very minimal maintenance.
ETL listed to UL and CSA standards.
Light kits are also available (sold separately)
Cons:
If your pond experiences freezing weather the fountain will need to be removed prior to freezing.
Can be pricey depending on model and power cord length.
Kasco VFX Fountain Model Options
The Kasco VFX aerating fountain has several different options for you to choose from. The main difference between these different models is that they provide different horsepower and voltage ranges. The height and width of the fountain spray may also be different.
The various models include:

It's important that you're choosing the right fountain for your pond, and you can use this Kasco VFX review to assist. If you choose a unit that isn't providing enough horsepower to properly circulate and aerate your pond, then you might not see a huge change in things like algae growth and fish life.
If you choose something that is too powerful, you're going to be running a less efficient system overall. For typical water conditions, you'll want to use at least 1 to 1.5 HP per surface acre.
What People are Saying about the Kasco VFX Fountains
The Kasco VFX series fountains have been used by many happy customers. People have improved the quality of their pond water, have reduced algae growth and added to the ambiance of their property. The spray is very subtle, so you likely won't hear it from all corners of your property.
Conclusion
This Kasco VFX fountain review has provided you with just some of the benefits that come with aerating your pond by way of a fountain. An aerating fountain can be thought of as a valuable tool that helps beautify your pond and introduce more oxygen.
Overall our customers have been happy with their Kasco VFX fountains and they're usually happy to send us pictures of the unit installed and doing its job in their pond.
We hope you've found this review useful and we appreciate you taking the time to visit our website today. If you have any questions feel free to call us at 800-242-6952. Thank you for reading!