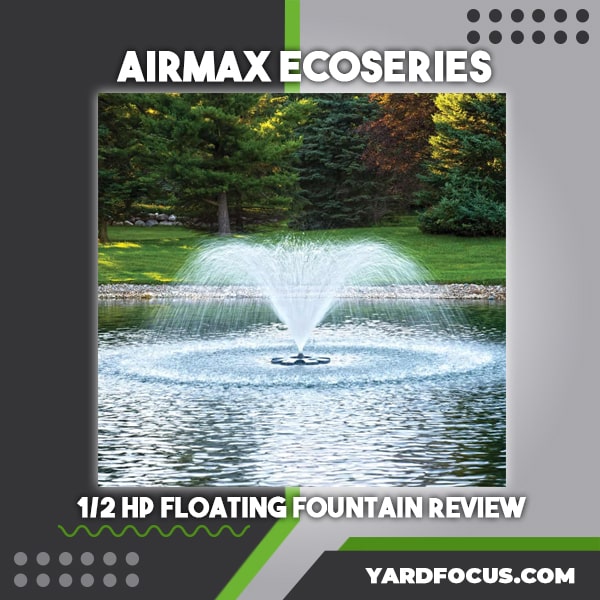 Airmax EcoSeries 1/2 HP Floating Fountain Review
Having a pond on your property is a lovely feature that provides a picturesque landscape, it can attract wildlife and you may even be able to enjoy some outdoor activities near or on your pond if it's big enough. A great way to add some ambiance to your pond is by adding a floating fountain.
There are many on the market, but the Airmax EcoSeries 1/2 HP fountain comes with some really great features that sets it apart from other similar items you may find on the market. Let's take a closer look at this fountain in this Airmax EcoSeries floating fountain review.
About the Airmax EcoSeries Fountain
This Airmax EcoSeries 1/2 HP fountain provides soothing sounds and impressive sights by way of industry leading spray patterns for your outdoor pond setup. The fountain can also be just as effective as some slightly higher horsepower units. It has a long-lasting operation thanks to the well thought out construction.

There are 3 different spray patterns that are included:
The classic spray, which is preinstalled and is a high-volume high spray
The crown and trumpet spray is majestic thanks to its wide trumpet pattern and high arch.
The trumpet spray is a tall burst of water that shoots high into the sky.


You can purchase other spray patterns which are sold separately, such as the single arch, double arch, double arch and geyser, and crown and arch.
There is also a mooring line kit that can be purchased separately that will help keep the fountain in place. You will need power somewhere near your pond in order to plug in the fountain so it's important to measure the distance so you order the correct power cord length.

If you decide to purchase this fountain, make sure you perform the suggested maintenance on your fountain prior to storing the unit for winter.
How to Assemble the Airmax EcoSeries Fountain
Installation is simple, and you can complete it easily on your own in a short amount of time. Lay the float on the ground with the logo facing up. The fountain motor should be in the center of the float. Lift it straight up, making sure everything is lined up.
Lay the fountain to one side. Attach the power cord to the disconnect setup. The mooring line will attach to this setup as well.

Pick the fountain up by the float, and you can place it into your pond. You will need at least 24 inches of water minimum. Stake one end of the mooring line into the ground (mooring line and stakes sold separately). Walk the mooring line around your pond until the fountain is in the position you want it and stake it in the ground. The two mooring lines should be staked on the opposite side of the pond.

Plug the control panel into your power source. You can set the duration of the fountain to whatever time frame you want. It is recommended to run the fountain a minimum of 10-12 hours a day.

There are complete instructions included with your order, so you can take your time with installation.
Airmax EcoSeries Fountain Assembly Video
If you're going to change the spray of the fountain or need to perform any maintenance, you'll want to unplug the fountain from your power source to remain safe. Maintenance isn't time consuming, and you won't have to do much more than clean out the intake screen periodically. You can install a filter sock (sold separately) on the fountain to help with debris if you would like.
You can opt for a fountain that does not come with a power cord, and you can also choose between a unit with a 100', 150′, 200′, 250′, 300′, 350′ or 400′ power cord length.

The motor is comprised of a stainless-steel body and ceramic shaft designed for longevity. Engineering grade plastic is used for the discharge and nozzle parts.
Airmax EcoSeries Fountain Pros and Cons
Pros:

-It's nice to have some different features included in the fountain you purchase. This Airmax EcoSeries fountain comes with three different spray patterns that you can choose from (Classic, Trumpet and Crown & Trumpet). You can truly set the ambiance of your property by selecting what you think fits the mood for the day. Switching between the different patterns is very simple.
-The Airmax EcoSeries comes with a three-year warranty. If anything goes wrong with the fountain, you simply contact the manufacturer for information on how you can have your fountain repaired or replaced.
-This is a very energy efficient unit, and you can run it frequently without having to worry about the cost you'll incur on your next electric bill. It runs at 5.8 Amps, 696 watts on 120V power.

-The Airmax EcoSeries 1/2 HP fountain is easy to assemble and turn on. You don't need to have any tools on hand to assemble it for the first time or when you're going to change out the different nozzles. There is a quick disconnect cord that is located under the surface of the water, and you use this part to easily remove the motor and the float.

-There are optional LED Light Sets available to choose from that you can invest in to upgrade your fountain.
Cons:

-If you live somewhere that experiences freezing temperatures during parts of the year, you will have to remove the fountain from your pond before temperatures drop. It is recommended not to expose the fountain to freezing temperatures.
-You don't have the option of adjusting the height of the spray that comes from the three different fountain spray options.
Conclusion
The Airmax EcoSeries fountain reviews are very favorable. Many satisfied customers are using this floating fountain on their pond, and it provides great aesthetics and sound. It even attracts fish, geese and ducks in many cases. Reviews claim that the fountain is very quiet, even on the highest setting. It will provide a nice visual, but it doesn't distract from what's going on around it.

Overall, affordability, convenience of use, durability and aesthetics are what set this fountain apart from the competition according to reviewers.

If you're looking for a fountain to install on your pond, it's worth your time to look into the Airmax EcoSeries. This is a reputable brand that manufactures pond reliable fountains that you will be able to use for years to come. It's a great item to have for a special occasion, but it's lovely to watch during everyday use as well.
This is one of our best selling fountains and we've had numerous happy customers that use it and love it. We hope you've enjoyed our Airmax EcoSeries fountain review and found it helpful. If you have questions feel free to give us a call at 800-242-6952. Thank you for reading!