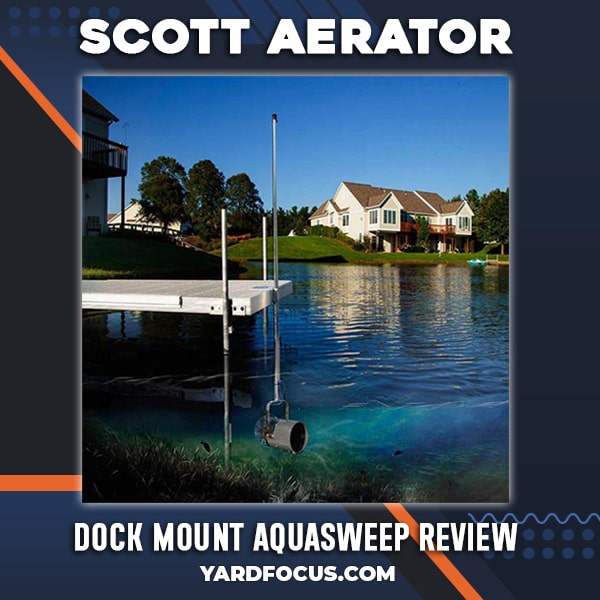 Scott Aerator Dock Mount Aquasweep Review
If you're interested in maintaining your waterfront and making quick work of things like debris, trash and algae, the Scott Aerator Dock Mount Aquasweep may be just what you're looking for. It provides you with the opportunity to clean an area meticulously while being able to remove items like silt, leaves, garbage and muck from the bottom and coast of water filled areas.
This can in turn improve your water quality, the water could look much clearer, and you may even notice that there is more wildlife coming to the area when you're providing a much cleaner space for them to visit.
The Scott Aerator company makes this popular product and they're a family-owned business that's located in Michigan.
About the Dock Mount Aquasweep Muck Blaster
This equipment works by use of high-velocity water propulsion. You can reach spaces that are as much as 75 feet away, moving the unit in multiple directions to gain access to the dirtiest areas you have. There are attachments that you can upgrade to, providing you with additional features like oscillation.
The standard unit includes a stainless-steel mounting plate that can work with different dock styles. It's very durable; designed to last you through years of cleaning. For an additional cost you can also choose a dock post mounting bracket that attaches to a pole or post.
The stainless-steel yoke assembly can reach a depth of seven feet maximum. If neither of those will work for you there is an optional free-standing post that replaces the need for a dock.
Power is provided for this Scott Aerator Dock Mount Aquasweep Muck Blaster by way of a submersible Franklin electric motor that achieves 3450 rpm of power. You can choose between a 115-volt and 230-volt motor.

You can easily keep your water clean and safe all year long. You don't have to enjoy your area less because it is murky or messy. The Aquasweep has a history of helping to reduce muck and unwanted debris.
Scott Aerator Dock Mount Aquasweep Pros and Cons
Pros:
Can be used in both salt water and fresh water.
Can be adjusted in multiple directions.
Maintenance free.
Works best on decaying bottom material and surface algae.
Included in the package is a 50-foot, 12-gauge power cable with marine-grade plug.
Comes with a five-year motor warranty.
Made in the U.S.A.
Environmentally friendly motor design.
Built to last.
Oscillating attachment optional for an additional purchase.
Cons:
The minimum water depth that you need for proper use of this product is 12-inches. However, features have been added to the unit so the motor can be protected if you run into a shallower area that is putting additional stress on the motor.

Top Features of the Scott Aerator Dock Mount Aquasweep
There are some impressive features included on the design of the Scott Aquasweep. Let's take a closer look at some important factors to take into consideration.


-This is a maintenance-free unit that doesn't require oil or oil changes.
-It works for all water types, and the temperature of the water doesn't matter. You can get your spring cleanup done nice and early, regardless of how chilly of temperatures you're dealing with.
-The ½ horsepower model has a 48-pound thrust rating.
-There is an intake shield on the Aquasweep that is used to keep debris out of the unit.
-An automatic thermal overload shutdown feature will prevent motor damage in the instance that water flow becomes restricted.
-Made with stainless steel, which is much more durable than aluminum or other galvanized metals.
-This unit has the ability to move much and debris up to 150 feet in diameter.
-The ½ horsepower motor variety is rated with a flow rate of approximately 400 gallons per minute. This version can push debris a minimum of 50 feet.
-The ¾ horsepower motor is rate with a flow rate of approximately 450 gallons per minute. You can push debris at a minimum of 60 feet.
-There is also a one horsepower motor option that is rated at 500 gallons per minute (flow rate). It moves debris a minimum of 75 feet.
What to Expect from a Scott Aerator Dock Mount Aquasweep
It's always nice to take a look at what real people have said about a product that you're thinking about purchasing. The Scott Aerator Dock Mount Aquasweep has a number of favorable reviews. Positive results were achieved with minimal assembly and effort.
While results will vary, most people see a noticeable improvement and cleaner water around their docks in a short amount of time. Overall, the area becomes much easier to clean the more you're using your Aquasweep.

In general, the Aquasweep will function optimally when used as directed and assembled as such.
Conclusion
Using the Dock Mount Aquasweep Muck Blaster is simple, it's easy to store and it makes quick work of cleaning dirty areas. Your dock area can look much nicer, and you'll likely have improved water quality that will increase the appeal of your home and land.
Scott Aerator is one of our favorites brands. They make some great products and they're a customer-focused company and have been eager to help whenever needed.
We hope you've enjoyed our Scott Aerator Dock Mount Aquasweep review and found it to be helpful. If you have any questions you can give us a call at 800-242-6952. Thank you for reading!